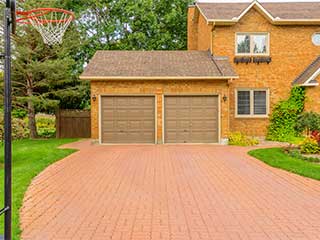 An automatic garage door can be a great addition to any house, as it can add both curb appeal and an aspect of additional security. With proper maintenance, this system will be able to serve homeowner for a very long time. However, all good things come to an end, and although some problems can be adequately repaired, eventually, complete garage door replacement will be required. Before buying a new model, you need to take a few things into consideration.
The Material Question
The material your door is incredibly important, as it determines how much curb appeal your door will have, how much maintenance it will require, and what its insulation and security properties will be. Each material presents different advantages. Wood is often preferred because of its beautiful classic look and the fact that it's a natural insulator. Its main downside is that it requires frequent repainting and more maintenance than the other materials. Steel is great in terms of durability, as it will be hard to damage and will resist a lot of harsh conditions. However, it can rust if there is a lot of moisture in the air, and it will require a certain amount of horsepower for the opener to be able to lift it. As for aluminum, this material is great for anyone who doesn't want to have to deal with maintenance. However, it is far from sturdy and will dent rather easily.
The New Age
The opener is the part of your garage door system that provides the horsepower that we used to provide by lifting and closing the old door system manually. Naturally, if you used to have an aluminum door and have now chosen to replace it with a steel or a wooden one, then you'll need to make sure your opener is capable of supporting the extra load. If it won't be able to do so, you may need to upgrade to a different model. But there may be other reasons why you should consider opener replacement. New modern models have smartphone compatibility and can be integrated with feature like a backup battery system that can be a great thing to have during an emergency.
The Most Important Thing
When it comes to getting a new door system, the worst thing you can do is just choose a model without doing the proper research. There are too many factors that need to be taken into account for you to make an arbitrary decision. Either that, or you consult a professional. Our experts at Garage Door Repair St Augustine can advise you on this subject and answer any questions you may have. We'll also make sure you don't neglect to take everything into consideration and are able to find the best new garage door for your specific needs. As for the installation part, we'll be happy to help you with that as well.