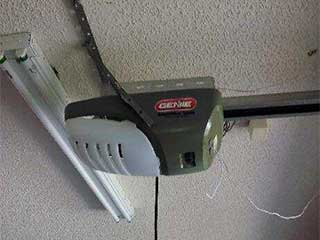 One of the leading garage door opener brands in today's market is Genie. This is the type of manufacturer that adheres to the three core elements that make up a great product. Those are efficiency, practicality, and, perhaps most importantly, affordability. The diversity of the accessories that they have available is also an important thing to mention because it demonstrates the versatility and customization that they offer. Typically, Genie openers are very easy to handle and to maintain. That means that the "value for money" and longevity aspects that they offer are exactly what many homeowners are looking for.
The Available Models
Genie garage door openers come in a wide variety of shapes and sizes. They use screw drive for some models, and belt or chain drive for others, but the great majority of their residential openers utilize a DC motor that's incredibly silent and fast and can start and stop with a soft non-stuttery motion. Many of their products are compatible with Aladdin Connect, which can allow you to use the opener with your smartphone or tablet. They also provide backup battery compatibility, which will allow you to keep using your device during a power outage.
The Leading Innovators
The Genie brand is one of the industry's most advanced manufacturers, especially when it comes to security ensuring rolling code technology. The Genie Intellicode is their proprietary application of this technology, which changes the access codes of the opener remote every time you use it to open your door. This type of feature is a great way to prevent code-jackers from using your own opener against you.
Where To Start?
The wide selection of models and all the different specs and features they each presents and offers can be quite disorienting, which is why our experts would be more than happy to help you with this choice. We'll make sure that your new opener will be able to produce the horsepower necessary to open and close your door smoothly, and that you don't neglect to consider additional special features like HomeLink and CAr2U compatibility. Of course, once you've made your choice, we'll perform the opener installation for you and make sure that your door system is able to work flawlessly and smoothly. All you need to do is give our team at Garage Door Repair St Augustine a call and we'll take care of anything.