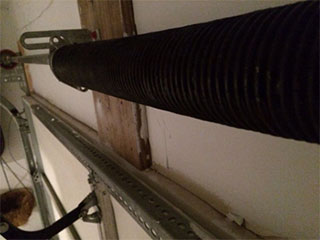 Beware Attempting DIY
While it may be tempting to try to take care of things yourself when your garage door springs start to go awry, don't risk it! The springs are vital to your door's proper functioning, but they're also dangerous if you don't handle them with the utmost care. They're the muscle that's able to lift the door off the ground, and because of this they hold the weight of it. One wrong move and the whole thing will come crashing down. Even aside from that, the spring itself can cause harm by snapping suddenly. Make sure any spring services are done safely and correctly by letting the professionals handle it! Not only will your door work far better and easier, but it'll prevent any nasty accidents as well.
Torsion vs. Extension
Not sure what the difference is between these two types of garage door springs? We're here to explain it! Torsion springs are the preferred and safer of the two because they work by twisting up to store the energy used to lift the door. Extension springs instead do this by being pulled out, but this constant stretching to their limit wears them down far faster, making them more apt to break. They can also be dangerous when they do break, as they snap and bounce around the garage to wreak havoc. That's why getting your springs checked by experts is for the best, so they can try to prevent this from occurring! Either way, we can take care of either kind.
We Can Replace Or Adjust
Whether one or more of your door's springs have become too worn down, rusty, or even have broken entirely, don't worry! We'll be able to get them replaced quickly so your door will work like new again. It may also be something simpler, such as the springs getting shifted out of place, in which case we can adjust them for you easily.
Take The First Step Now
Get your garage door's springs taken care of swiftly by contacting Garage Door Repair St Augustine today!
If your garage door spring broke but you're less than close to us, here's an idea - call someone closer. The best Miami broken spring repair experts available today, for example. Take it from us. These guys can help with any and all garage door spring replacement or tension adjustment needs you may have.
Looking for more? We also offer:
Extension Spring Adjustment
Belt Drive Opener Installation
Part Replacement & Lubrication
Emergency Garage Door Repairs