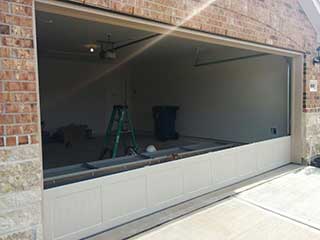 Your overhead door consists of many interconnected parts, from the springs and rollers to the cables and the opener. As is the case with any complicated electro-mechanical system, there are a lot of things that can go wrong, and over time it's likely that you'll experience some issues with your garage door or some of its different parts. Our technicians can quickly provide a solution, though, no matter what the problem is.
Damaged And Worn Springs
All doors use heavy-duty springs to do the heavy lifting. After all, hauling a 200-pound door up and down several times a day is no easy feat. These components are built to last, but over time they will begin to weaken and wear out. Depending on the quality of the spring and frequency of usage, this could take anywhere between 5 to 10 years. Once the springs begin to wear out the door will often wobble or start making squeaking noises while it moves, at which point, it would be essential to contact our technicians as quickly as possible. We'll safely disconnect and replace the springs for you and make sure that your door is able to keep working optimally. Do not try and fix these components by yourself; they can be extremely dangerous if not properly handled, and you could get seriously hurt.
Repairing Malfunctioning Openers
By far the most complicated part of your overhead door system is the opener. This unit is what controls the door's operation, and it must work perfectly with many different moving parts in order to operate properly. It's often difficult to work out why your opener isn't working properly, but our technicians will quickly identify and solve any issue, from faulty wiring to a broken motor gear. We can also fix misaligned safety sensors and make sure that they're able to adequately detect an obstacle.
Removing Dents From Panels And Tracks
Denting metal can sometimes be easier than what you might think. A damaged track can inhibit the door's operation, while a dent in one of your panels can spoil the look of your garage and compromise its aspect of security. Our team can remove dents from these hardware parts quickly and easily, and if the damage is more severe we can arrange for a replacement panel or a new track to be installed.
Call Us Today
If you're in need of emergency opener repairs or need some other part of your system fixed, our technicians are ready to help. Contact Garage Door Repair St Augustine today to get our experts to come and help you with whatever you need.
In addition, count on us for:
Roll up Garage Door Maintenance
Door Opener Troubleshooting Services
Garage Door Extension Spring Installation
Track Replacement & Repair