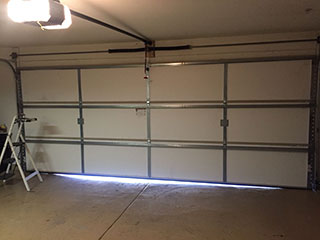 Your garage door is probably the largest moving part of your house. Seeing as it's not just a regular wall, but a moving mechanical system, it will require more frequent care than the rest of the exterior sections of your home. With regular professional maintenance, you'll be able to keep this important system in a good working condition for a long time and avoid the need for expensive emergency repairs. Our team can provide you with regular checkups and adjustments that will make sure of that.
Handling The Opener
If you have a belt-drive opener, then noise output isn't something you probably worry about, but if you have a chain or screw drive model, then you're well aware of how annoying it can be to have this device work so loudly. As part of our maintenance service, we'll make sure that the screw is properly lubricated to reduce its noisy operation and make sure that it stays efficient. We'll do the same if you have a chain drive opener, and we'll make sure the chain is well adjusted too. Another key aspect of what we'll do is check the safety sensors. These components are what prevents the system from closing while there's an obstacle under the door. We'll make sure their alignment is correct and that their lenses aren't blocked or scratched.
All The Hardware Parts
Of course, we'll focus on every part of your system individually, and this includes everything from the cables to the panels. We'll make sure the tracks aren't bent or misaligned, and straighten or realign them as necessary. We'll also lubricate the rollers and the springs, which will help them work more silently and efficiently, and we'll make sure that any dents or cracks in the panels disappear by fixing and sealing them up.
Above And Beyond
If during our inspection we'll find anything that requires more than a minor tweak, rest assured that we won't leave it as is. Garage door springs tend to wear out over time, which is why we dedicate some extra time to check their tension, adjust it accordingly, and make sure that their coils aren't getting deformed. The cables will receive a similar treatment, and we'll make sure they aren't getting to frayed to be functional. Give our team at Garage Door Repair St Augustine a call to schedule a maintenance appointment today.
We also offer the following:
Garage Door Opener Track Maintenance
LiftMaster Garage Door Opener Repairs
Galvanized Torsion Spring Installation
Extension & Torsion Spring Replacement